posts tagged 'Upload Showdown'
Thursday, December 31st, 2009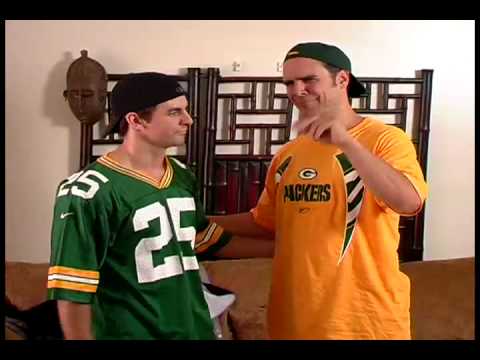 Quickly becoming a cult classic, this grab-ass comedy throws open the curtain of "hangin' with the guys" and brazenly shows us what really goes on… really?!?
* AS SEEN ON COMEDY CENTRAL *
* WINNER OF UPLOAD SHOWDOWN ON ATOM.COM *
Tags: COMEDY CENTRAL, funny, sketch, Upload Showdown
Posted in sketch, video briefs | 1 Comment
Monday, September 7th, 2009
Atom.com had the balls to ask America what they thought about simulated straight male-on-male felatio, and America responded. "Male Bonding" (also known as "Packers Fans Are Gay") won Atom.com's Upload Showdown!
Mom, this wins for you! – As a side note, my mother was responsible for many of those votes.  She's never even seen the sketch in its entirety.  When I first posted it on YouTube, she came across it one day on "accident" and her curiosity got the best of her.  She called me up immediately and told me what she thought.  "Your father wouldn't even watch it.  He walked right out of the room!" I assured her that it was nothing I did in real life, it was only comedy.  Now, thanks to the fine people at Atom.com, my Mother can sleep a little better, knowing her son isn't the person who finds humor in seemingly straight jocks fisting each other.
An extra thanks goes to the Producer and Director of the sketch, my pal "Foxy" Ryan Fox (from Rough Sketch and Frog Island).
Tags: COMEDY CENTRAL, Upload Showdown
Posted in boxer blog | No Comments
Thursday, February 26th, 2009

A sketch as legendary as its namesake. Talkin' the Walken ain't easy. This guy's impression sucks so bad that his friends have to take action.
* FEATURED ON THE YOUTUBE FRONT PAGE, TORRENT TV (G4), AND REVVERLIVE.COM * RECENTLY COMPETED IN ATOM.COM'S UPLOAD SHOWDOWN *
* OVER HALF A MILLION VIEWS  *
Tags: COMEDY CENTRAL, funny, sketch, Upload Showdown, WALKEN
Posted in sketch, video briefs | No Comments